Silent Assassin (commonly abbreviated to SA) is a stealth game created by Typical Games. It relies on multiplayer teamwork to eliminate the Assassin, who is attempting to eliminate the target. Assassins will use the environment to conceal themselves and eliminate the target.
In the shop, players may equip themselves with a large array of useful perks and gadgets to complete their objectives.
There is a Trade Hub, where players can exchange their skins with others.
The game officially received a trailer by Xbox, which was also advertised by the official Roblox account on Twitter.
Gameplay
As a guard, players must protect the target from the Assassin by using guns.
As the Assassin, players must hunt down the target and kill off or avoid detection from any guards.
As the target, players must be protected from the Assassin. There are briefcases scattered around that the target may collect for extra XP.
Every round lasts for 3 minutes, and the round ends if the Assassin successfully escapes, leaves, gets killed, or if time runs out.
Shop
In the shop, players can buy Guns, Skins, Gears, Perks, and Emotes. A "Store" is also available, where more coins and gamepasses can be purchased from.
There is also a section to redeem Twitter codes, which is placed above the Store button.
Gamemodes
There are currently 3 gamemodes in Silent Assassin: Free for All, Infection, and Normal.
---
Settings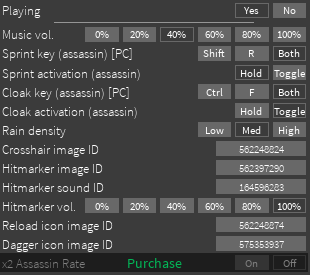 Compared to the rest of the TG games, Silent Assassin has the most in-depth settings.
Players can adjust how their sprint and cloak works as well as change the crosshair, hitmarker, reload, and dagger icon to any image they want. They can also change the sound that the hitmarker makes.
The rain density and music volume can also be adjusted.
Players can reset back to the default settings whenever they choose to.
Players can also check the stats they had achieved starting from their first gameplay session via the settings.
Gallery
Trivia
On April Fools Day 2018, the lobby from Epic Minigames was added as a map. It was removed the next day.
On March 6, 2019, the Rthro scaling was forced on the game so it could appear in the Rthro sort on the Roblox 'Games' page.

Near the end of 2019, R6 was re-allowed as a playable rig option.

On December 18, 2019, the "Northern Exile" map was introduced to the game as a limited-time map to celebrate Christmas and was kept beyond the festive holiday due to positive feedback and demand to keep it as a permanent map.
See also